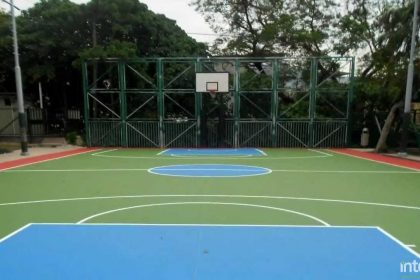 Acrylic Floor Covering Installation Integral floorings is a multi-purpose coating system used for basketball, tennis courts,  (https://www.integralgrass.com/Installers/tennis/) multi-purpose fields, children's playgrounds, training fields and all kinds of sports games. This system based on polyurethane and rubber is resistant to abrasion. The high elasticity and shock absorbing properties reduce the possibility of injury to children in situations such as slipping, falling, and crashing. Polyurethane lining is applied on concrete or asphalt floor. The first layer with a thickness of 8 mm is poured in hot casting with a "finischer" machine by mixing polyurethane binder with SBR granules. The second layer ultraviolet and ozone resistant special mixture INTEGRAL GRASS rubber granules are applied in 7 mm thickness as hot casting with " finischer " machine on top of the first layer mixed with polyurethane binder. By drawing lines in accordance with the purpose of use, the pitch is made ready for play.
Basketball Floor Covering
Integral Grass  is an acrylic based system designed for tennis, basketball, volleyball and other sports that is applied on the prepared asphalt ground. The Acryflex system is a non-slip, economical coating that provides high performance and regular ball bounce. It is durable and long lasting, suitable for various climatic conditions, minimizes fatigue, reduces discomfort, and irresponsive to UV rays. Due to their nature, Acrylic flooring materials are long lasting and more useful on asphalt infrastructures. The flooring should be applied 3 weeks after the installation of asphalt or concrete to the ground. Once the slopes are correctly aligned and the asphalt surface is thoroughly cleaned, one coat of the Resurfacer, the material used to fill the pores in the asphalt, is applied to the ground. Following the drying of this layer, a minimum of 2 coats of Cushion, the application that gives the ground flexibility, should be applied to the ground. The application of the Cushion layer is totally optional. If not applied, the floor will be stiff. Stiff pitches allow tennis balls to move faster on the court. Therefore, professional tennis players choose stiff pitches. However, Cushion system is always recommended for amateur uses in hotels, sites, schools, holiday villages etc. Because of the elasticity of the Cushion coating, the floor becomes more suitable for amateur sports fans. Cushion is waterproof. . The surface water drainage on the site is provided by 0.5% of slope given to the pitch. Basketball is a team game that is played by hands and balls in teams of five, trying to win by passing through a hoop called the basket with a height of 3.05 meters. It is a sports game that is popular all over the world. It was first played by James Naismith in 1891.  
Acrylic floor covering : https://www.integralgrass.com/acrylic-floor-covering/